Twice-baked Stuffed Potatoes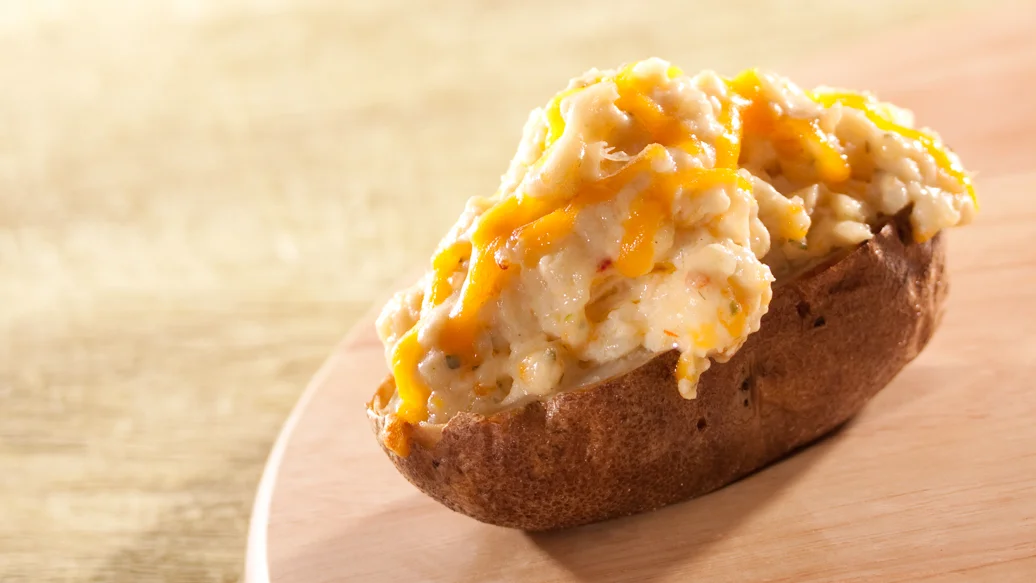 1 hour & 15 min
4 servings
$0.82/serving
Dare to compare? Popular steakhouse twice-baked potatoes can pack a fattening punch! Save over 110 calories, 9 g fat and 536 mg sodium with this lean and light recipe – all the flavour without the fat and added sodium.
Ingredients
4 baking potatoes
1⁄4 cup light sour cream
1 cup grated low-fat cheddar cheese
Preparation
Preheat oven to 425° F (220° C).
Pierce each potato in several places with a fork and bake for 50–60 minutes, until tender.
Cut potatoes in half lengthwise and carefully scoop out insides, leaving a 1⁄4" thick shell.
Mash potato with sour cream, Herb & Garlic Dip Mix, cheese, Sea Salt and Pepper. Spoon back into potato skins.
Arrange stuffed potatoes in an ovenproof baking dish and bake for 15–20 minutes.
Nutritional Information
Per serving: Calories 330, Fat 3 g (Saturated 15 g, Trans 0 g), Cholesterol 10 mg, Sodium 220 mg, Carbohydrate 67 g (Fiber 7 g, Sugars 4 g), Protein 12 g.